Overview
The purpose of the proposed consequential amendments Civil Aviation Safety Amendment (Part 101 - High Power Rockets) Regulations 2020, is to align Part 101 of the Civil Aviation Safety Regulations (CASR) with the Australian Space Agency's (ASA) legislative framework for high power rockets, and to transfer certain responsibilities for oversighting regulatory risk of high power rockets to the ASA. The focus of these amendments is to support the High Power Rocket (HPR) Rules (which commenced on 30 June 2020), update the cross‑references to "high power rocket" (the definition of which is located in the ASA's legislation) and remove overlap of offences which are otherwise dealt with in the ASA's legislation.
The ASA's definition of launch in section 8 of the Space (Launches and Returns) Act 2018 (SLRA) is:
Table 1 – Definition of launch (SLRA)

From 30 June 2020, the ASA's definition of high power rocket in section 5 of the HPR Rules states:
Table 2 – Definition of high power rocket (HPR Rules)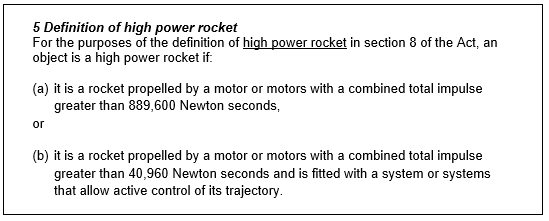 An important principle which flows through the ASA's legislation and these proposed amendments is consideration of the concepts of "air risk" and "ground risk". Implementing the ASA's oversight of high power rocket activities, consistent with CASA's existing regulatory responsibilities in relation to aviation safety, means that in terms of a regulatory approval timeline, the ASA is the "entry control" regulator for all high power rocket activities. Once an applicant has applied to the ASA for a high power rocket permit and has been granted the permit, the next step would be for the applicant to apply to CASA for an area approval to conduct launch. Accordingly, the applicant would be required to apply to two separate regulators in succession since there are separate pieces of legislation administered by two regulatory agencies. CASA and the ASA will collaborate closely on any regulatory approvals required and share information to ensure applications and regulatory issues are considered in a streamlined manner.
Please see Table 3 in the fact bank below for more detailed information on the proposed consequential amendments to Subpart 101.H - Rockets.
Impact on industry
There is no substantive policy change in CASA's proposed amendments. The changes are consequential in nature and flow from government legislation in 2019.
To complement the ASA's legislative requirements for persons who hold existing CASA area approvals (under regulation 101.030) for the launch of rockets, CASA proposes to:
impose a general condition on all existing area approvals granted for the purposes of regulation 101.450 of CASR, to require launches of high power rockets (within the meaning of the SLRA) to hold a high power rocket permit granted by the ASA; or

amend each individual existing area approval granted for the purposes of regulation 101.450 of CASR, to clarify that the approval would only apply to rockets other than high power rockets.
Going forward, as part of CASA's assessment for grant of an area approval, CASA will consider requiring applicants, where the rocket is a high power rocket as defined by the SLRA, to first secure an HPR permit from the ASA to undertake that launch. This ensures:
administrative simplicity for industry to first approach the ASA as the entry controlling regulator, on matters regarding oversight of high power rockets and

administrative continuity in relation to CASA's subsequent regulatory role on airspace deconfliction and oversight of risks to air navigation when the high power rocket is operationally prepared for launch.
Please read the Summary of proposed change (SPC) on CD 1920SS for more detail on this subject.
Why We Are Consulting
CASA recognises the valuable contribution that community and industry consultation make to the regulatory development process. We are consulting to ensure that the proposed new rules are clearly articulated and will work in practice and as they are intended.
All documents related to this consultation are attached at the bottom of the page. They are:
Summary of proposed change document, which provides background on the proposed standards

Exposure Draft - Civil Aviation Safety Amendment (Part 101—High Power Rockets) Regulations 2020

Space (Launches and Returns) Act 2018

[C2019C00246]

MS Word copy of this consultation for ease of distribution and feedback within your organisation.
Please read the Summary of proposed change before providing your feedback in the online survey.
File upload option no longer available
CASA can no longer offer the option to upload files because of the potential risk of malware.
Using an iPad
If you are using an iPad to complete the survey you will be asked to 'download the relevant PDF'. Depending on the software you have on your iPad you may need to download the free viewer to review the single document PDF files. Where a file is a 'multi-file or portfolio PDF' you will need to source the Adobe free view - available from iTunes.
Information about how we consult and how to make a confidential submission is available on the CASA website.
To be notified of any future consultations, you can subscribe to our consultation and rulemaking mailing list.
Give Us Your Views